Celebrity & Stylist Sightings
Inside the Barbershop at Hotel New York in Rotterdam.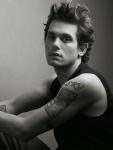 InStyle Hair
Spring 2010
Hairstylist Sally Herschberger states that she uses Murray's Pomade on John Mayer's hair in the Spring 2010 InStyle Hair magazine.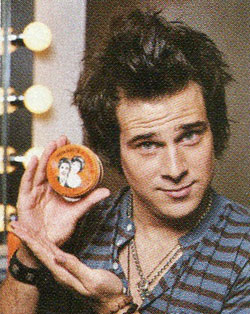 People
November 27, 2007
Ryan Cabrera - Sexiest Do-It-Yourselfer
Cabrera, 24, at work on his third album, allows his fans to go where pro stylists are forbidden. "I had someone do my hair once, and I washed it and did it myself right after. I don't even know what I'm doing. I just do it. But when a fan asks, 'Can I touch your hair?' I'm like, 'Go for it.' "
"I use Murray's Pomade. It's old-school"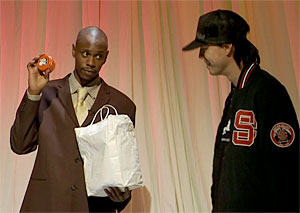 Murray's on Chappelle's Show!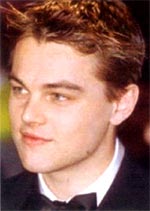 Leonardo DiCaprio
Star Online
July 27, 2001 Leo's Hair Care Regimen
Regular shoppers miles from Beverly Hills were startled to see Leonardo DiCaprio browsing in the hair-care aisle of a local beauty supply store.
He found what he was looking for — Murray's Hair Pomade, a staple for saxophone players in the '30s.
Leo explained that George Clooney turned him on to the old-fashioned product. The Titanic star loves the way it slicks back even his unruly hair straight back like patent leather.
He's so high on the stuff that Leo's requesting it on every movie set. Wonder what his pillowcases look like.
Justin Timberlake looking good in a Murray's NuNile T-shirt.
Brian Setzer posing with Murray's NuNile T-shirt.
Murray's at The 17th Annual Soul Train Music Awards
Below are pictures of celebrities who took the time to pose with our famous product.